⭐⭐⭐⭐⭐ Order safely and conveniently at carpetz.de
High quality

Manufactured to the highest quality standards.

Large selection

Carpets in many colors and sizes.

Purchase on account

Order conveniently on account
Sisal carpets - real beauties of nature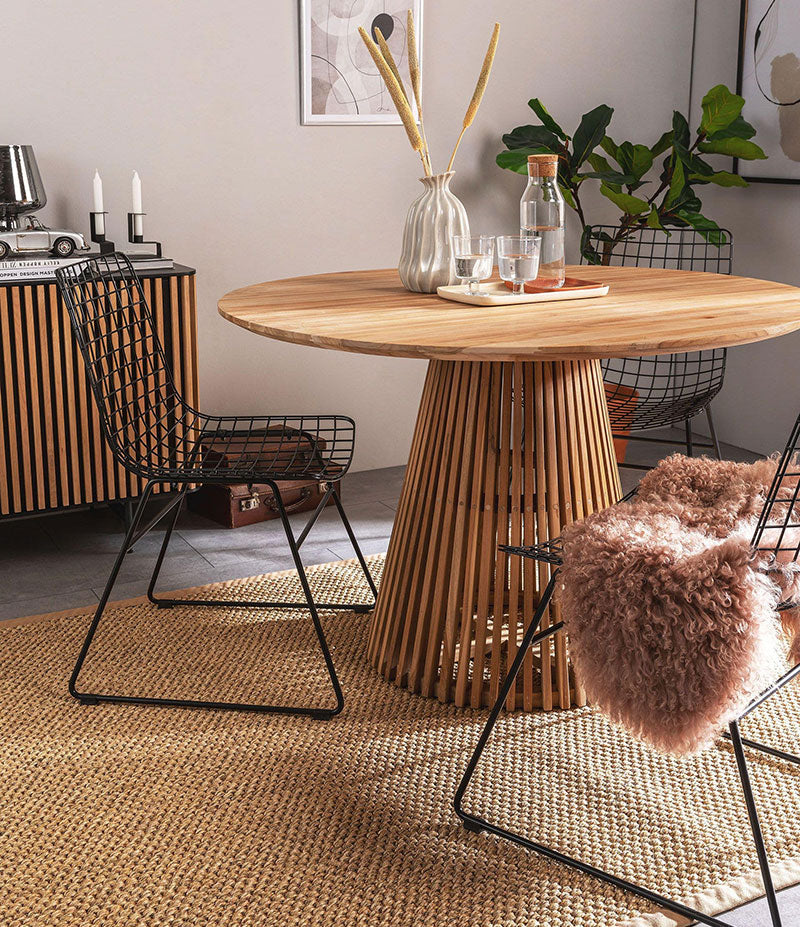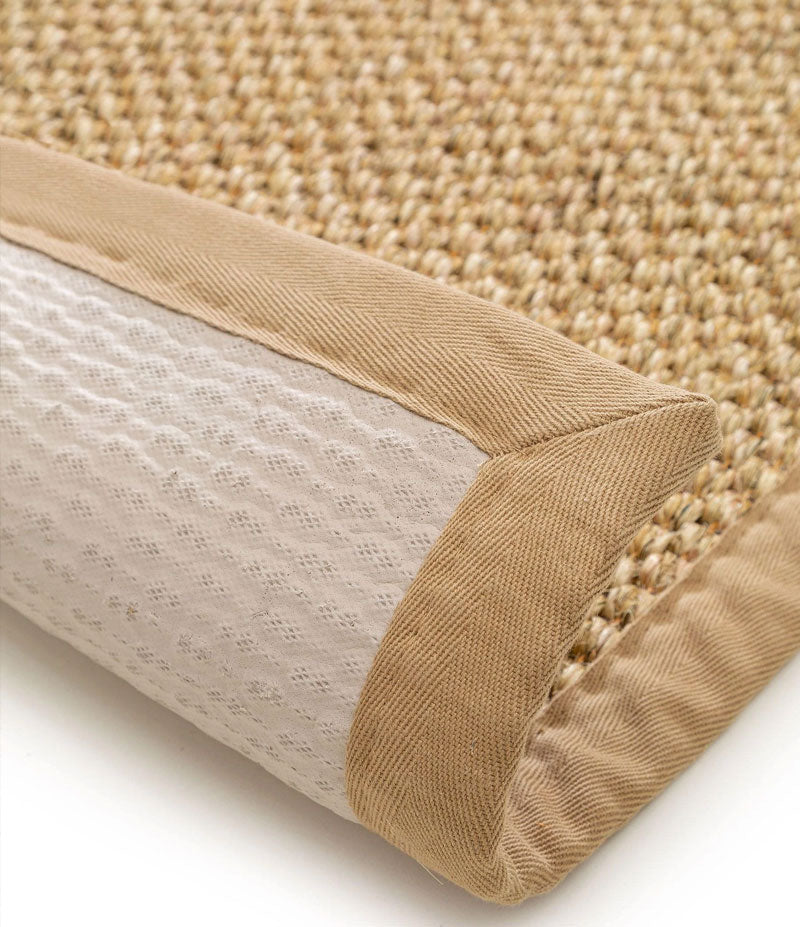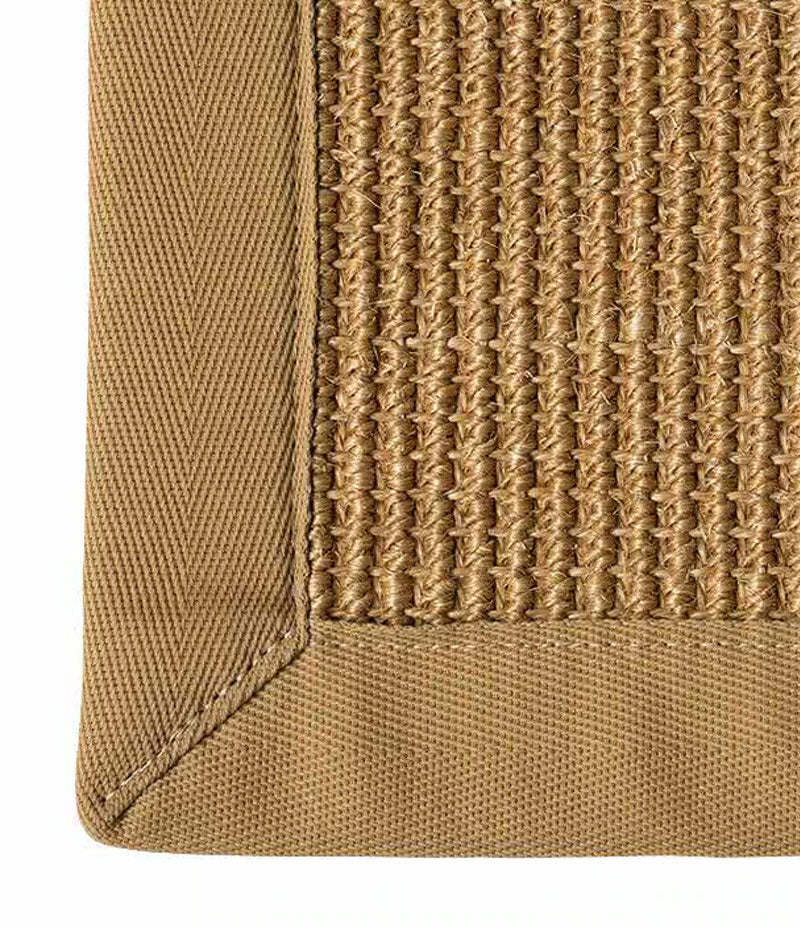 FAQ
How do I care for a sisal rug?

In order to care for a sisal carpet, it should be vacuumed regularly and cleaned of stains. If necessary, it can also be cleaned with water and a mild detergent.
How long does a sisal rug last?

The lifespan of a sisal carpet depends on various factors, such as the quality of the material and the wear and tear. As a rule, however, a well-maintained sisal carpet lasts for several years.
Is sisal sensitive?

Sisal is a robust material, but it is sensitive to moisture and moisture. Therefore, care should be taken not to clean the carpet with too much moisture and to protect it from direct sunlight and moisture.
Is sisal suitable for outdoors?

Sisal carpets are intended for indoor use and are not suitable for outdoor use as they do not tolerate moisture and moisture well.
What happens when sisal gets wet?

When sisal gets wet, it can change its structure and appearance. Sisal is a natural material and tends to absorb water, which can cause the fibers to soften. As a result, sisal fibers can temporarily lose their stiffness and strength. With strong and prolonged moisture there is also a risk of mold growth, as sisal is susceptible to moisture.
What is sisal rug?

A sisal rug is a rug made from the natural fibers of the sisal agave. These fibers are extracted from the leaves of the agave, spun and woven into carpets. Sisal rugs are known for their sturdy structure, natural texture and eco-friendly properties as they are made from renewable resources. They work well for interiors, adding a rustic and natural vibe to any space.
How easy to care for are sisal carpets?

Sisal carpets are considered to be relatively easy to care for and hard-wearing. Thanks to their natural fibers, they tend to be stain-resistant and require less frequent cleaning. It is recommended that you vacuum regularly and treat stains as soon as possible to maintain the longevity and beauty of the sisal rug.
What is the difference between jute and sisal?

Jute and sisal are both natural plant fibers used to make rugs, however they have some differences. Jute is a softer and smoother fiber while sisal has a coarser and more durable texture. Also, jute is more susceptible to moisture damage while sisal handles moisture better. Both fibers have their own unique properties and lend themselves to different uses and preferences.
Is sisal weatherproof?

Sisal carpets are ideal for indoor use, but are not weatherproof and should therefore not be used outdoors. They can be damaged if they are directly exposed to moisture or UV radiation.
What are the properties of sisal?

Sisal is a natural material valued for carpets for its excellent properties. It is hard wearing, durable and has a natural texture that will add a rustic and organic appeal to any space. In addition, sisal is naturally stain-resistant and easy to clean, making it a practical choice for high-traffic areas.
Custom made sisal rugs

Perfectly matched. Configure your made-to-measure sisal carpet easily online. After ordering, your sisal carpet will be made in the desired size exclusively for you.

Please note: Sisal rugs in individual sizes cannot be returned.

Our recommendation: To ensure that you like the color of the carpet and the quality upon delivery, we recommend that you order a sample in advance. You can find the samples by clicking the "Order samples" button on the respective product page.
Is sisal rug warm?

Sisal rugs tend to be rather cool on the surface because sisal is a natural material that does not retain heat as well as synthetic materials. However, the perceived warmth of a sisal carpet also depends on the ambient temperature and the room climate. In colder rooms, a sisal rug might feel less warm, while in warmer environments it might be more comfortable.
Can I buy a sisal carpet on account?

At carpetz.de you can conveniently buy your sisal carpet on account. Our purchase on account is processed via Klarna. In the app you also have the opportunity to convert the purchase on account into an installment purchase.
Der Sisalteppich
Sisalteppiche sind bei den Anwendern sehr beliebt, welche ein natürliches Wohnumfeld zu schätzen wissen. Die Sisalfasern sind besonders fest, robust und verleihen dem Sisalteppich seine leicht grobe Struktur. Einen modernen Sisal Teppich gibt es nicht nur in den bekannten Naturfarbtönen, sondern auch in intensiven und modernen Farben, wie zum Beispiel rot, schwarz oder grün. Durch die große Auswahl können die Anwender den Sisal Teppich sehr gut auf die Einrichtung abstimmen – oder den Teppich passend zu den hochwertigen Sisalstufenmatten wählen.
In seiner Form gehalten werden diese Teppiche durch eine Umkettelung oder durch eine Bordüre gehalten, die farblich auf den Bodenbelag abgestimmt sind. Diese Varianten sind optisch besonders attraktiv und schützen die Fasern dauerhaft vor einem Ausfransen. Teppiche aus Sisal bieten eine rutschhemmende Unterlage zu einem günstigen Preis. Teppiche aus Sisal sind in vielen Mustern, Farben und Größen erhältlich und sind eine schöne Zierde für jedes Büro und jede Wohnung. Sie laufen sich nicht ab und sind über viele Jahre ansehnlich und schön.
Die verschiedenen Arten der Sisalteppiche
Teppiche aus Sisal mit Bordüre sind besonders beliebt bei den Anwendern. Die passende Bordüre sorgt für ein geschmackvolles Erscheinungsbild und zugleich dafür, dass die Naturfaserteppiche am Rand nicht ausfransen und die Form behalten. So sind die Teppiche aus der Sisalfaser in verschiedenen Maßen und Farben erhältlich, sodass sich für fast jedes Wohnzimmer der geeignete Teppich finden lässt. Jeder mit einer Bordüre versehene Teppich aus Sisal besitzt außerdem eine Unterseite, die rutschfest ist. Dies verspricht einen guten Halt auf dem Fußboden und sorgt zugleich für ausreichend Sicherheit.
Teppiche aus Sisal mit umkettelten Rändern haben zum einen eine schöne Form und sind durch eine Umkettelung vor dem Ausfransen gesichert. Außerdem sorgt der farblich passende Rand aus Kunstgarn für ein ansprechendes Erscheinungsbild. Jene in vielen Formen, Farben und Größen verfügbaren Teppiche aus Sisal setzen natürliche Akzente in den Wohnbereich und verbreiten gleichzeitig eine angenehme Atmosphäre. Eine rutschhemmende Rückseite verhindert ein Verrutschen des Teppichs und sorgt für Sicherheit im Hause. Ein weiterer Vorteil dieser Naturteppiche ist die Umweltfreundlichkeit. So besteht jeder Teppich aus der Naturfaser Sisal, diese aus der nachwachsenden Sisalagave, eine Art aus der Gattung der Agavengewächse, gewonnen wird und zugleich biologisch abbaubar ist. Viele Agavenarten sind in der Lage besonders reißfeste und robuste Fasern zu entwickeln. Vor allem die gleichnamige Sisalagave eignet sich für eine Verarbeitung der Naturfasern.
Den Namen erhielt die Faser durch die Hafenstadt Sisal. Diese liegt auf der Halbinsel Yucatán und von hier aus fand ihr Export ursprünglich in die ganze Welt statt. Da sie dick und kurz ausfallen, können Sisalfasern nicht versponnen werden, weshalb die Hersteller komplette Faserbündel bearbeiten. In diesen steckt ein recht hoher Anteil an Cellulose und weiteren Stoffen, welche eine sehr harte Oberfläche ergeben. Für diese Steifigkeit ist ein Teppich aus Sisal bekannt. Im Laufe der Jahre wurden verschiedene Verfahren entwickelt, um den Sisal feiner und weicher werden zu lassen. Daher lassen sich die Fasern zum Beispiel mit Polyester zu einem neuen Gewebe verbinden.
Im Schlafzimmer kommt es vor allem auf eine gemütliche Atmosphäre an. Durch die hochwertigen Bettumrandungen aus Sisal werten die Anwender das Schlafzimmer optisch auf und geben auch den Füßen eine hautfreundliche und angenehme Unterlage. Die Schlafzimmerteppiche sind natürlich und auch in einem Set erhältlich. Die Kunden erhalten mehrere Teppich-Läufer zu einem Preis. Um die optimale Bettumrandung aus Sisal zu finden, haben gibt es im Handel eine Auswahl in vielen attraktiven Farben. Diese reichen von der klassischen naturfarbenen Version bis zu einem Set für das Schlafzimmer zum Beispiel in roter Farbe.
Was ist beim Kauf eines Sisalteppichs zu beachten?
Die Maße und das Gewicht eines Teppichs aus Sisal sind beim Kauf zu beachten. Sicher wissen die Anwender schon, wo der Teppich liegen soll. Entsprechend kann der verfügbare Platz dann gut abgeschätzt werden. Meist werden die Teppiche aus Sisal der Größe von 140×200 Zentimeter, 160×230 Zentimeter sowie 200×300 Zentimeter gekauft.
Am Gewicht des Teppichs lässt sich erkennen, wie gut dieser auf dem Boden liegen wird. Weiterhin sind beim Kauf die Struktur, das Design und die Farben zu berücksichtigen. Durch besondere Verfahren können die groben und robusten Sisalfasern geschmeidig werden. Die meisten Anwender lieben genau die raue Oberfläche und von daher bleibt Wahl beim Kauf bestehen.
Unabhängig davon können die Käufer die Teppiche aus Sisal in diversen Farben kaufen. Von Natur aus wirkt diese Faser gelb bis orangefarben. Die Hersteller können diese jedoch auch in Grau, Schwarz oder auffälligere Farbtöne produzieren. Muster sind außerdem möglich, welche dem Kunden zur Verfügung gestellt werden können. Dafür braucht es jedoch den richtigen Hersteller, weil dies ein besonderes Modell wird, das nicht als Massenware gekauft werden kann.
Was zeichnet das Material Sisal aus?
Bei dem Sisal handelt es sich um eine natürliche Faser, welche aus einer Agavenart gewonnen wird. Weil bei der Aufzucht keinerlei Pestizide benutzt werden, sind diese Bodenbeläge schadstofffrei. Die Teppiche aus Sisal sind besonders strapazierfähig und robust, weswegen diese gerne in viel genutzten Zimmern ausgelegt werden. Diese sehen lange Zeit wie neu aus. Da diese sich gut färben lassen, sind sie in einer großen Muster- und Farbvielfalt erhältlich. So gibt es viele Arten in Naturtönen wie Braun, Beige oder Grün.
Im Vergleich zu anderen Naturfaserteppichen wie Teppichen aus Wolle sind Beläge aus Sisal etwas trittfester und härter, dadurch auch besonders widerstandsfähig. Außerdem eignen diese sich für Tierhaarallergiker, weil es sich um ein Naturprodukt handelt. Die Sisalfasern können die Luftfeuchtigkeit aufnehmen und diese auch wieder abgeben. So entsteht ein gutes und gesundes Raumklima, in dem sich die Besitzer des Teppichs wohlfühlen werden.
Eine absolute Neuheit - Sisalteppich Purstoff
Um ein zu 100% aus Naturmaterialien bestehendes Produkt zu entwickeln, hat sich die Firma Grundstoff ein besonderes Fertigungsverfahren ausgedacht. Statt den Rücken zu verkleben, wird bei dieser Technik komplett auf Klebstoffe verzichtet. Stattdessen kommt ein mechanisches Verfahren zum Einsatz, bei dem das Vlies mit dem Gewebe vernadelt wird, wie bspw. beim Sisalteppich Purstoff in haselbraun.